Not long ago, I saw these adorable quichelettes over at
La Fuji Mama
and instantly craved some. I used to buy frozen pastry sheets whenever I made quiches, but her recipe for the pastry dough looked so easy, I thought I would try my hand at it.
True enough, the dough was a breeze to put together. Do note though, that in hot and humid weather (like Singapore's), you need to work fast. Make sure your softened butter is still slightly chilled and not too soft.
I didn't have a muffin tin, so I made it into 1 large quiche (using a loose bottom cake tin). It worked perfectly fine.
As I made this quiche at about 11pm, I did not bother blind baking the pastry as I normally do. The bottom was a tad damp, but nothing to grouse about (I think I would not have this problem if I made them in quichelettes). Anyhow, I couldn't resist waiting till morning, so I stole a small slice ;) I enjoyed every bite of my midnight snack in front of my laptop, as I sat browsing my favourite blogs. You know who you are!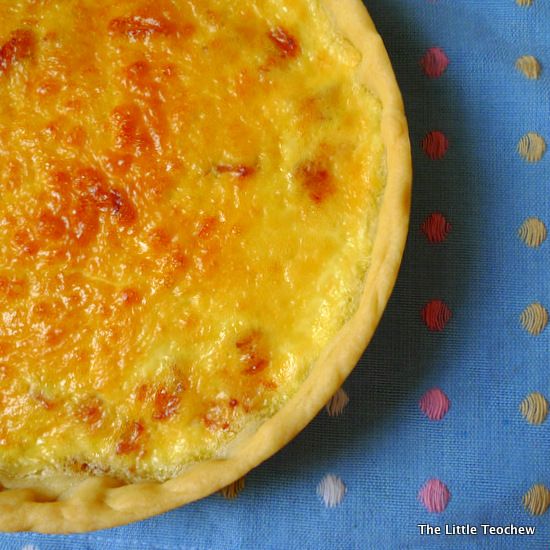 The next morning, I reheated it and we all had it for brekkie. Quiche is truly a wonderful, savoury delight. It's one of those perfect-anytime-of-day food, isn't it?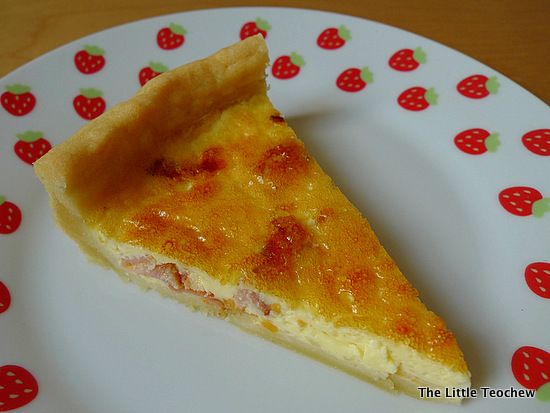 Recipe
Pastry dough (from La Fuji Mama)
- 1 1/4 cups all-purpose flour, sifted (~140g)
- 11 tablespoons (5.5 ounces) butter, softened (~156g)
- 1 egg
- 1/2 teaspoon salt
1. In a large mixing bowl, mix together the flour, butter, egg, and salt together with a wooden spoon, or with a hand mixer on the lowest speed. Mix until the dough comes together into a cohesive mixture, rather than lots of individual lumps, and can be formed into a ball.
2. Place the dough into a greased cake tin (one which is springform or loose bottom) and use your fingers to flatten the dough out and up the sides of the tin. Shape your pastry shell as evenly as possible. As you can see, I did a really untidy job!
Quiche Lorraine Filling (from The Little Teochew)
- 3 eggs
- 4 to 5 slices of bacon, cut into small pieces
- 1 jar creme fraiche from Carrefour's bio AGIR range (20cl) - it yields the best results in my opinion
- Salt and pepper to taste
1. In a skillet, fry bacon bits till crisp. Leave aside to cool.
2. Beat 3 eggs, creme fraiche, salt and pepper till well combined.
Directions
Sprinkle the base of your pastry shell with bacon bits. Pour egg mixture in slowly.
Bake at 140 degrees celsius, till the egg mixture sets. The top should look golden brown. Baking on low heat prevents the eggy mixture from rising into a 'dome' and cracking.
Allow quiche to cool slightly before slicing and serving. Bon appetit!