I was happy to hear that 2 of my blogger friends tried baking my
No Ovalette Moist Sponge Cake
, with success.
Coquerie de Chapot
did an angelic version
here
while
Cherry on a Cake
gave it a pandan twist. I thought adding pandan was a brilliant idea - thanks, Zurin! Do blog about your cake soon ;)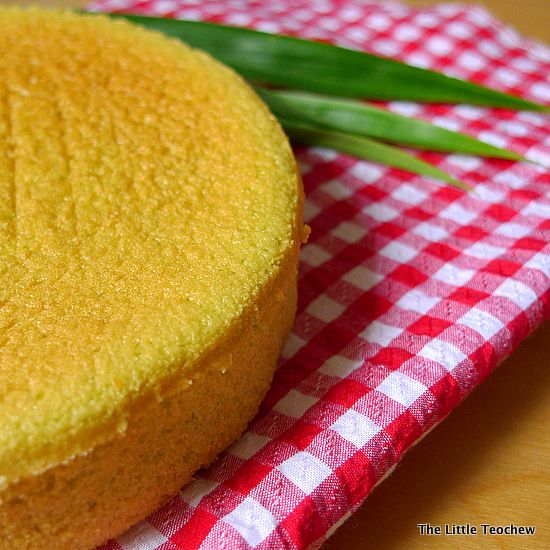 Now, if you are unfamiliar with
pandan
- which very likely means you don't come from Southeast Asia - it is a plant which features prominently in Asian cooking/baking. To me, pandan is to Asian what vanilla is to Western :)
The leaves are used because they impart a sweet, gentle, musky fragrance which makes everything smell and taste delicious. I knew of a lady who, instead of drinking her water plain, would throw some pandan leaves into her kettle so that she could have pandan-flavoured water to drink. Now,
that
may be worth trying if you don't like drinking your 8 glasses a day.
Anyway, this cake was another of my kitchen experiments. It still needs a tiny bit of fine-tuning to get it right, so try this at your own risk ;) I would recommend increasing the flour by another 20g. The batter was a little thin.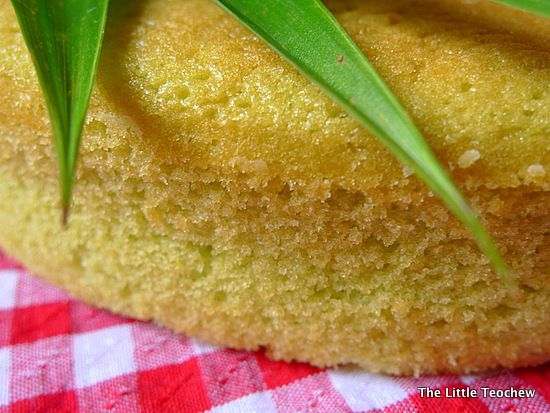 Nonetheless, it was great fun making this cake. I involved my kids, so it was messy ... but fun. When the cake went into the oven, I noted the slightly thin batter and prayed that it would rise.
And golly, did it rise! It rose evenly and beautifully! The aroma wafting from the kitchen into the living room was pure heaven.
I realised that the unflattering pale shade of green was what a REAL pandan cake should look like. Suddenly, those bright green, commercial ones look so garish by comparison. What I liked in particular was the hint of coconut. It gave the cake a lovely richness.
We had slice after slice effortlessly, for the taste of pure pandan was addictive. I did note that the cake was slightly dense at the bottom. Still, I told my children, looked what came out of our little experiment today! Nothing ventured, nothing gained.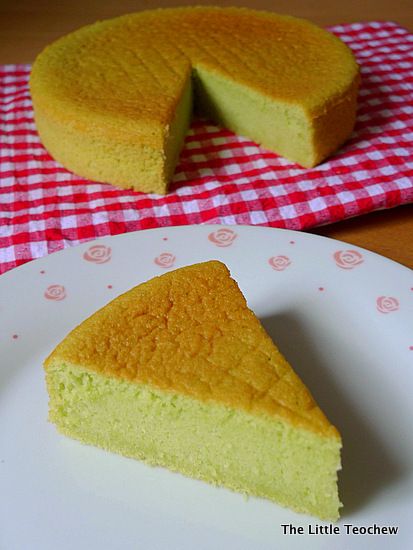 Recipe
(my kitchen experiment - try at your own risk!)
- 3 eggs
- 120g flour (I would up this to 140g next time)
- 80g caster sugar
- 1 1/2 tsp condensed milk
- 1/3 cup melted butter
- 2 tbsp coconut cream
- 1/2 cup fresh pandan juice*
* I threw 3 bundles of pandan leaves into the food processor together with 1/2 cup water, then blitzed till the leaves became pulpy. After that, I poured the pandan juice through a metal strainer.
1. Combine melted butter, coconut cream and pandan juice. Stir well and leave aside.
2. In a mixing bowl, beat 3 eggs, condensed milk and sugar till creamy, pale and stiff.
3. Fold in the flour in 3 parts, alternating with the pandan juice. Start and end with flour. Do not overmix.
4. Pour into a 6 inch pan that has been well greased and floured.
5. Bake in a pre-heated oven at 170 degrees celsius for 40 mins or until a skewer comes out clean. Tent with a foil if top browns too quickly. Allow cake to cool before cutting.