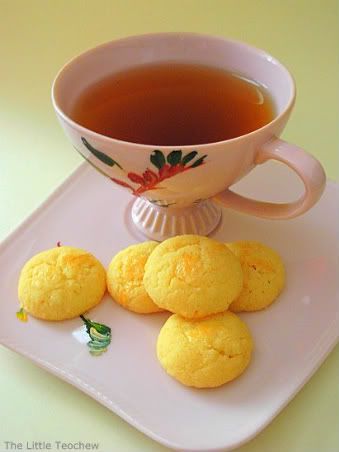 If you think this teacup and saucer set is a blast from the past, you are right. It was given to me by my Granny almost 30 years ago. Growing up, I used to spend a lot of my waking hours at her home ... lots of happy memories there. I still remember this particular day she came back from her errands. I followed her into the kitchen and she whipped out this pink teacup set, and to my delight, told me that it was for me. I couldn't stop smiling the whole day.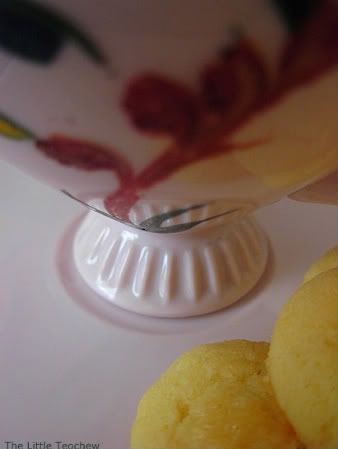 I thought the prettiest thing about this teacup was its wide brim which dramatically tapered down to a petite, dainty 'waist'.
Oh, how grown-up I felt drinking from it!
Today, I suddenly wanted to know where and why Granny got it ... so I phoned her. To my utter surprise, she remembered
every
single detail! Apparently, like many little girls back then, I was very fond of playing
masak-masak
(
pretend
cooking). So one day, while she was out, she chanced upon this teacup set at a shop along North Bridge Road and bought it for my
masak-masak
! She's in her 80s and she still remembers :)
Anyhow, I used to have my afternoon tea served on this set - usually a hot beverage with bread or a slice of sugee cake or traditional Asian cookies.
These
Almond Cookies
taste very similar to the ones I ate as a child. In those days, lard was commonly used in many baked goods, presumably a cheaper source of fat than butter. Whatever the case, lard made these cookies very crispy and sandy-crumbed, with a distinct aroma and flavour. Can't imagine? Just think of what bacon does for a dish and you'll get the idea.
These days though, lard is seldom used, but you can still re-live the taste of these cookies by using
ghee
(clarified butter).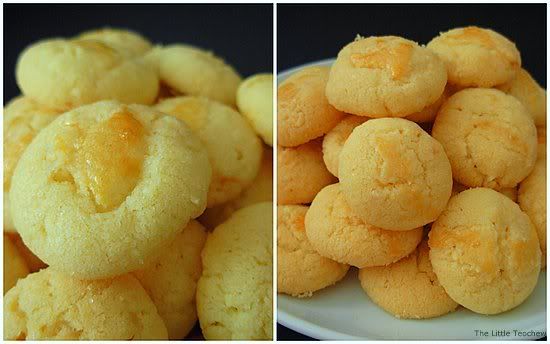 I made a lot of cookies for they finish up too quickly. The sweet-salty-crispy-nutty combination is simply addictive, I kid you not. What's more, there is no need for a mixer! Yes, everything goes into a large bowl and a few stirs later, you are ready to bake. It's that easy.
But wait, there is one thing that always puzzled me about this teacup set ...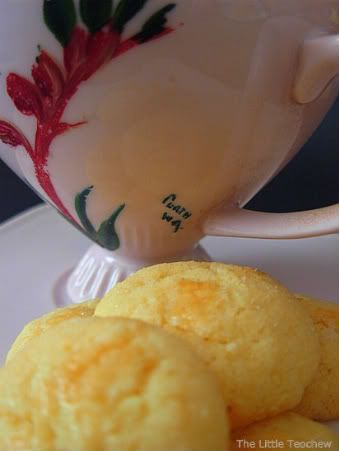 If that is your signature on the teacup, pray tell ...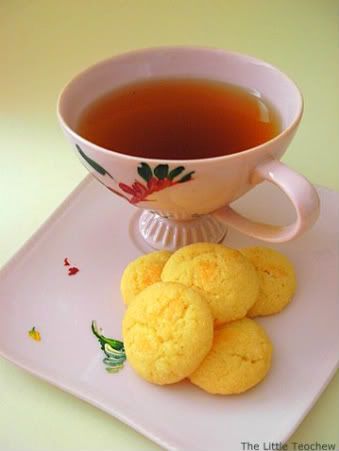 ... why are there these random smudges of paint on the saucer? They were there since Day 1 and I often wondered why. My favourite childhood conspiracy theory was that the artist used the saucer as a palette and couldn't get the paint off after he was done with the cup! You think? ;)
Recipe
- 100g ghee
- 120g caster sugar
- 1 egg yolk
- 1/2 tsp vanilla essence
- 70g ground almonds (today, I mixed 35g finely chopped almond chunks + 35g ground almonds)

- 150g plain flour
- 1/4 tsp baking soda
- 1/4 tsp salt (do NOT omit this ... without salt, your cookies will taste flat)

- Egg glaze: egg yolk
1. Mix first 4 ingredients, then add almonds and mix.
2. Sift flour, baking soda and salt. Mix and add to above. Mix to form a dough.
3. Scoop dough, shape it with your hands and arrange on lined tray. I used a 1/2-tsp spoon to measure out the dough for even-sized cookies. They expand slightly when baked, so I find that using the 1/2-tsp yields a nice bite-sized cookie. Brush with yolk glaze.
4. Bake in preheated 180 degree celcius oven for 12 to 14 minutes till yolk glaze on cookies look golden yellow and bottoms of cookies are light golden brown. Do not underbake. You do not want a soft centre for these cookies. They are supposed to be nicely crisp and sandy-crumbed throughout.

5. Allow cookies to cool completely on a rack and store in container.