Say it with me: "Banana Buttermilk Muffins".
I
know
.
Think fluffy, moist, aromatic ... you get the picture. Buttermilk is truly an unsung hero. I made these muffins using a recipe from
Williams-Sonoma Essentials of Healthful Cooking
. Easy to put together and a delight to eat. Oh yes, trust me on that one!
Presenting today's snack of the day: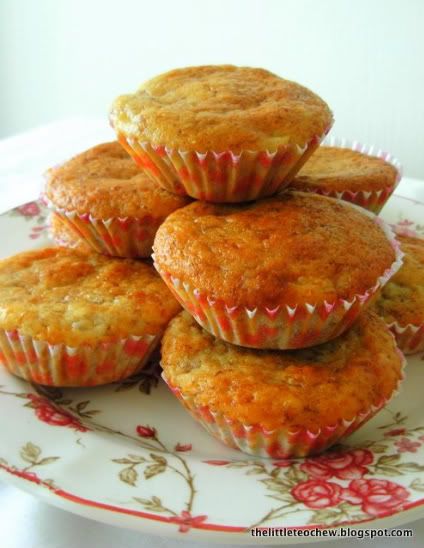 Lesson of the day: check that you have muffin cups first! I assumed I had them and panicked when I realised I didn't. Doh! With the batter made and ready to be baked, I had no choice but to make do with the cupcake cups you see here.
Recipe
(adapted from
here
)
- 195g all-purpose flour
- 115g caster sugar
- 2 teaspoons baking powder
- 1 teaspoon baking soda
- 1 cup buttermilk (which I made using 1 cup milk plus 1 tsp lemon juice)
- 3 medium sized (very) ripe bananas, mashed with fork
* If, like me, you like small chunks of banana in our muffins, don't mash them too finely.
- 2 tablespoons canola oil
- 1 large egg
- 1 teaspoon vanilla extract
Preheat oven to 190 degree celsius.
Spray 12 regular muffin cups with non-stick cooking spray.
In a large bowl, mix together the flour, sugar, baking powder and baking soda.
In separate bowl, whisk together the buttermilk, mashed banana, oil, egg and vanilla.
Pour wet ingredients over dry ingredients and stir just until blended.
Spoon batter into muffin cups, filling about three-fourths full. I ran out of these, so I had to make do with cupcake cups.
Bake until lightly brown and a toothpick inserted in center comes out clean, approximately 15 to 20 minutes.
Allow to cool in pan on wire rack for 15 minutes, then turn out onto rack and cool completely.
These muffins freeze well and can be warmed in the microwave.
Very soft and light, with hidden chunks of banana ... the way I like it.