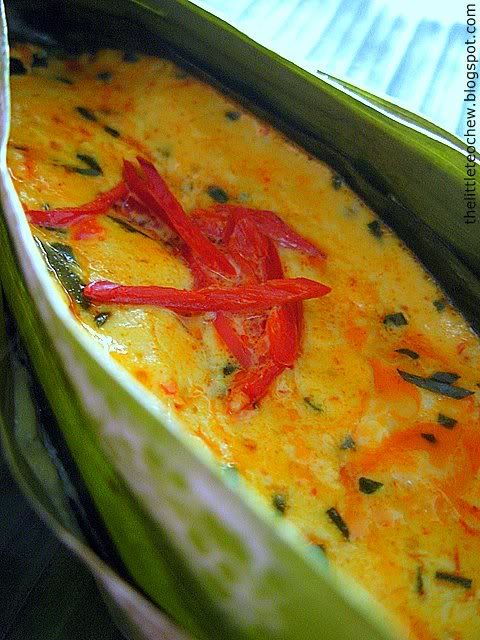 I made this dreamboat of a Fish Mousse today, thanks to the abundance of Red Snapper fillets my Granny gave me. Fish Mousse, or
Otah
, as it is more popularly known locally, is one of my all-time favourite food. I could live on it and bread alone! Yum yum!
Well, today, I chose to steam it the Thai way (instead of grilling the Malay/Indonesian way) because I was so busy rushing out some work. Steaming was the fuss-free and safer option (read: no chance of burning).
I cut the Red Snapper fillet into chunks and mixed them in with some fish paste I bought from the market. The result was a fragrant, spicy Fish Mousse which was
oh-so-perfect
with the crusty French loaf I bought this morning. I am salivating just thinking about it! 
The texture was quite different from the
Otah
commonly sold in shops - firmer, and with lots of bite ... the fish chunks were beautifully tender and flavourful. I can't believe I am already thinking of Round 2 - the grilled version! 
- 1/2 cup thick coconut milk (the thick cream you get from the first press)
- 200g fish paste
- 200g firm, white fish fillet (cut into chunks)
- 2 tbsp chilli paste* 
- 2 tbsp fish sauce (if your fish paste is already salted, you may reduce this to 1 tbsp)
- 2 tbsps corn flour
- 1/2 tsp sugar
- 4 kaffir lime leaves (shredded very thinly)
- dash of pepper
*I make my own using lemongrass, garlic, candlenuts, shallots, fresh chilli, oil and salt.
You also need
- banana leaves to hold the fish mousse (use 2 sheets per cup/boat, one leaf on top of the other, grains running in opposite directions to make them stronger, and fasten with toothpicks or staples)
- shredded chinese cabbage
- red chilli for garnishing 

1. Blanch the banana leaves to soften them. Once they are pliable, fold them into cups or boats (like I did). I really feel that banana leaves are indispensable if you want to achieve an authentic taste.
2. Mix all the ingredients well.
3. Place shredded cabbage at the bottom of the banana cups/boats.
4. Pour fish mousse into banana cups/boats.
5. Steam on high for 15-20mins or until skewer comes out clean.
6. Garnish with shredded red chilli.