I had a reader from Italy visit my blog a few days ago. Just seeing that Italian flag appear on my visitor tracker map sparked off a whole slew of happy memories. Of all the European countries, I am fondest of Italy. I have visited the country 5 times, used to learn and speak (halting) Italian, and love all Italian-made products (sigh ... expensive taste, I know). I love the food, culture, history and people. Is it any surprise that my eldest child was "Made in Italy"? ;P
Anyway, I have this thick and heavy book - 
The Complete Italian Cookbook
 (by Carlo Bernasconi and Christian Teubner). My husband bought it for me years ago, knowing my love for all things Italian. I count it as one of my favourites, among the things he has given me. I still take this book out from time to time, just to pore over the gorgeous photos, or to re-read recipes. As such, it is well-thumbed, with many pages flagged :)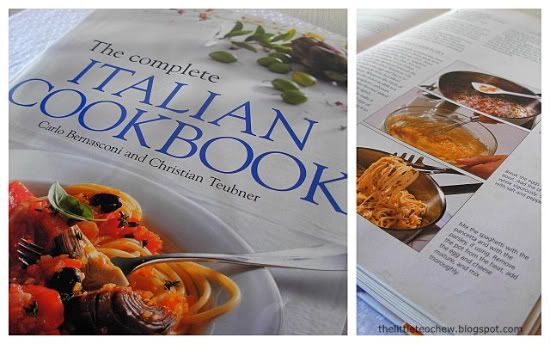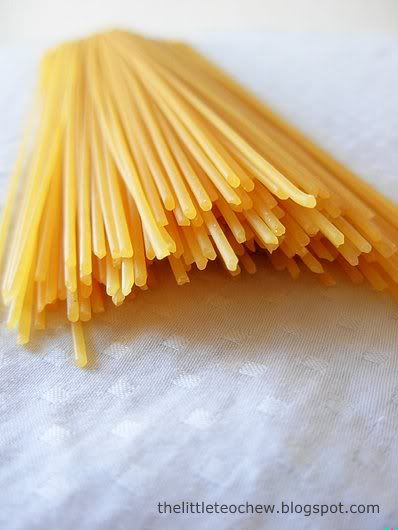 Seeing that reader from Italy made me whip that book out again. After flipping through briefly, I spotted the page on 
Spaghetti alla Carbonara
, one of my beloved pasta dishes. I realised I haven't had it in a while, and suddenly yearned for a taste of that eggy-cheesy-smoky flavour. Well, the good thing about knowing how to cook is, you can satiate your cravings quite easily. So, I made it for dinner :)
Since there are scores of recipes for
 Spaghetti alla Carbonara 
on
the Internet, I shan't list it here. My only word of advice is, use the freshest, best quality ingredients your money can buy. I know this should always be the mantra, but it is 
especially
 crucial for 
simple
 dishes, for you'll have nothing to disguise the taste of inferior quality ingredients.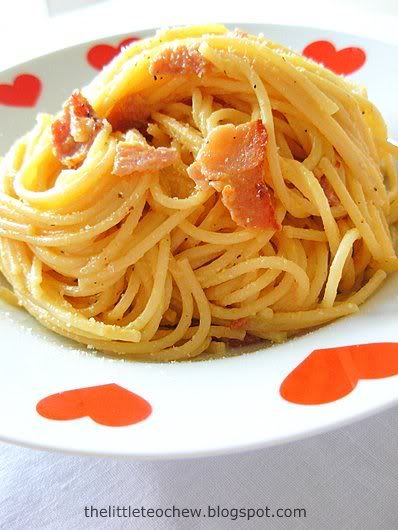 After making the spaghetti, I gave my "Made in Italy" daughter a quick lesson in plating it. I can't remember exactly who said it, but I
think
it was Jamie Oliver. He said pasta should always 
stand proud
 on the plate, in a pretty mound
. I couldn't agree more! It riles me whenever I see pasta served as a floppy, sloppy, mangled mess smothered in waaaay too much sauce. That would be 
Char Kway Teow
. So, always use a pair of tongs and the right dish to plate your pasta.
At first bite of my 
Spaghetti alla Carbonara
, I had a "Remy Moment". Remember when Remy (in Ratatouille) took a bite of strawberry and another of cheese? Sparks all around? Well, it happened to me. I had fireworks on display. It was eggy and cheesy and full of umami. 
Perfetto
!
So, to that Italian reader who was the reason why I had a most scrummilicious pasta dinner tonight, if you are reading this, "Mille grazie e ci vediamo!"