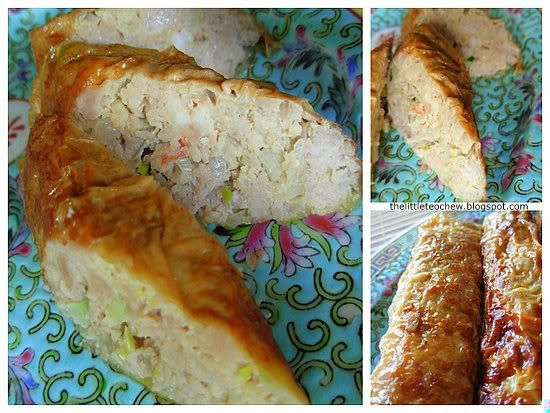 After I wrote about my
Ngoh Hiang
post, I received a few emails with queries. Some of them are:

Anyway, here goes:

1. Can I add carrots?
YES!

2. Can I use chicken instead of pork?
YES!

3. Can I add use onions instead of leeks?
YES!

OK, hang on ... before this goes on, you can add anything that floats your boat. You're the one eating it! LOL. As long as you don't add ingredients which turn the Ngoh Hiang skin soggy, you can use whatever ingredients you like. I have made vegetarian rolls for my husband using mashed up (firm) tofu, enoki mushrooms, carrots and onions. So let your creativity rule.

If you're looking to make around 6 pork rolls (about 15cm long, thereabout), you can use these approximates, which I made yesterday for my mother-in-law. Below is a pictorial explanation. After you've made the rolls, fry until crisp and golden brown.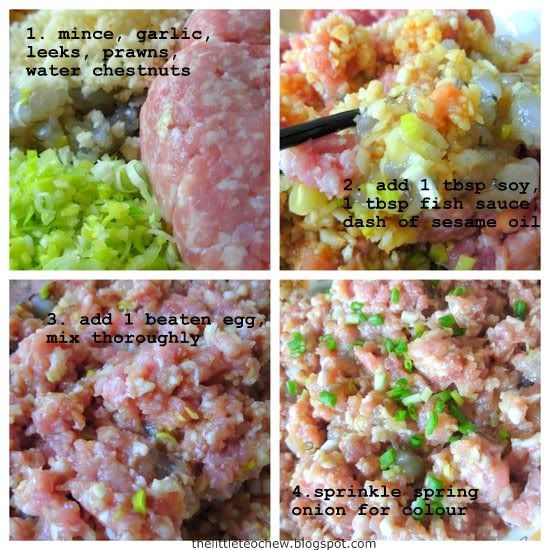 - 300g minced pork (or any minced meat you prefer)

- 2 cloves garlic, minced finely

- 6 water chestnuts, chopped roughly

- 6 medium sized fresh prawns, shelled, de-veined and chopped into small chunks

- 2 stalks leeks (the white part only), sliced thinly OR substitute with 2 stalks spring onions, chopped*
* I actually used both leeks and spring onions this time round.

- 1 tbs soy sauce

- 1 tbs fish sauce

- dash of sesame oil
- dash of pepper
- 1 small egg, beaten lightly
- Ngoh Hiang skin (sold in large, folded sheets at dry goods shops ... you have to cut them to size before rolling)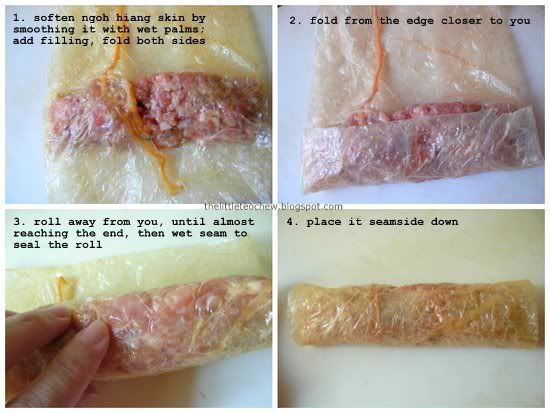 Related post:
Teochew-style Ngoh Hiang (With Yam)
.